Publikationen
Neueste Paper

Žagar, N.,  M. Rennie, and L. Isaksen, 2021: Uncertainties in Kelvin waves in ECMWF analyses and forecasts: Insights from Aeolus observing system experiments. Geophysical Research Letters, 48, e2021GL094716. https://doi.org/10.1029/2021GL094716.
Abstract
The European Space Agency Earth Explorer mission Aeolus with the first spaceborne Doppler Wind Lidar onboard provides global coverage of wind profiles twice per day. This paper discusses the impact of assimilating Aeolus winds on the quality of tropical analyses and forecasts using the observing system experiments of the European Centre for Medium-Range Weather (ECMWF). Presented examples show that Aeolus wind profiles bring changes to the Kelvin wave structure in the layers with a significant vertical shear during the easterly phase of the quasi-biennial oscillation in the period May to September 2020. Comparing Kelvin waves in analyses and forecasts with and without Aeolus winds, it is argued that improved ECMWF forecasts in the tropical tropopause layer are due to vertically propagating Kelvin waves.
Stephan, C.C., Žagar, N. & Shepherd, T.G.(2021) Waves and coherent flows in the tropical atmosphere: New opportunities, old challenges. Q J R Meteorol Soc, 1– 28,  https://doi.org/10.1002/qj.4109
Abstract
Atmospheric science relies on numerical models to simulate the complex multiscale nature of atmospheric variability, but our confidence in weather and climate predictions relies on theory and simplified models that describe scale interactions at a mechanistic level and can provide causal accounts of atmospheric behaviour. Global simulations at kilometre-scale resolution are now feasible and offer new opportunities to the atmospheric science community for testing and expanding our understanding of climate variability and change. Taking full advantage of this new tool requires smart strategies for evaluating and analysing the output, especially as kilometre-scale climate modelling will be limited to relatively short simulations with a rather small number of realizations. We here review some of the available tools for diagnosing and studying the dynamics of waves, coherent flows, and the interactions between them in terms of their ability to provide causal accounts of the behaviour seen in observations and in comprehensive simulation models. We describe their successes but also some of their limitations. The limitations are seen to be especially pronounced in the Tropics, where clouds, convection and atmospheric circulation are inextricably linked. The lack of a natural spatial truncation scale in the Tropics has given rise to many theoretical challenges, but it is for precisely this reason that the Tropics are where we might expect the largest gain from global kilometre-scale models.
Asselot, R., Lunkeit, F., Holden, P. B., & Hense, I., 2021: The relative importance of phytoplankton light absorption and ecosystem complexity in an Earth system model. Journal of Advances in Modeling Earth Systems, 13, e2020MS002110. https://doi.org/10.1029/2020MS002110
Abstract
We investigate the relative importance of ecosystem complexity and phytoplankton light absorption for climate studies. While the complexity of Earth System models (ESMs) with respect to marine biota has increased over the past years, the relative importance of biological processes in driving climate-relevant mechanisms such as the biological carbon pump and phytoplankton light absorption is still unknown. The climate effects of these mechanisms have been studied separately, but not together. To shed light on the role of biologically mediated feedbacks, we performed different model experiments with the EcoGENIE ESM. The model experiments have been conducted with and without phytoplankton light absorption and with two or 12 plankton functional types. For a robust comparison, all simulations are tuned to have the same primary production. Our model experiments show that phytoplankton light absorption changes ocean physics and biogeochemistry. Higher sea surface temperature decreases the solubility of CO2 which in turn increases the atmospheric CO2 concentration, and finally the atmospheric temperature rises by 0.45°C. An increase in ecosystem complexity increases the export production of particulate organic carbon but decreases the amount of dissolved organic matter. These changes in the marine carbon cycling, however, hardly reduces the atmospheric CO2 concentrations and slightly decreases the atmospheric temperature by 0.034°C. Overall we show that phytoplankton light absorption has a higher impact on the carbon cycle and on the climate system than a more detailed representation of the marine biota.
Vasylkevych, S. and N. Žagar, 2021: A high accuracy global prognostic model for the simulation of Rossby and gravity wave dynamics. Q J R Meteorol Soc., 1-19, https://doi.org/10.1002/qj.4006
Abstract
A model for studying Transient Inertia‐Gravity And Rossby dynamics–TIGAR is introduced. The presented horizontal component of the model solves the nonlinear rotating shallow water equations on the sphere using Hough harmonics. Spectral modelling using Hough harmonics as basis functions describes atmospheric dynamics in terms of physically identifiable structures–Rossby and inertia‐gravity eigen‐solutions of primitive linearized equations. This offers an attractive framework for detangling gravity wave dynamics in high resolution simulations. Accurate computations are achieved through the use of higher order integrating factor and exponential time differencing methods, leading to a major increase in computational efficiency and stability. The comparison with classical time‐stepping schemes shows accuracy improvements of several orders of magnitude at no additional computational cost. In particular, stability gains are achieved through enhanced accuracy and efficiency in computation of gravity waves, rather than through their damping. In the new frame work, reduced models using the Rossby and gravity waves aimed at studying dynamical aspects of data assimilation or wave interactions are easily implemented.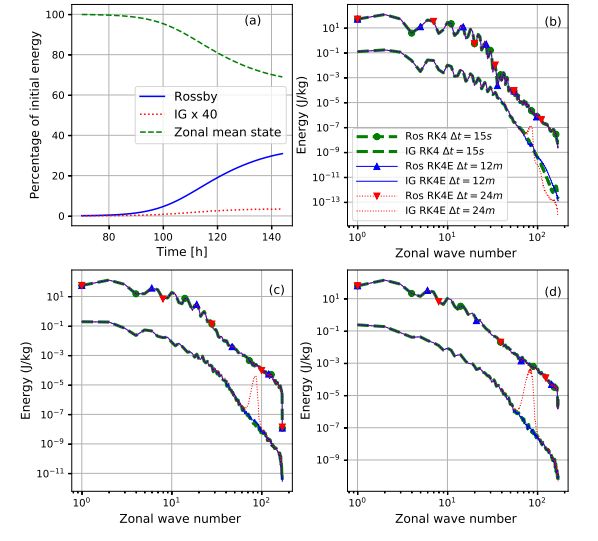 (a) Evolution of total energy in the referent T170 barotropic instability simulation RK4 with dt = 15s. Energy spectra of Rossby and IG modes after (b) 72, (c) 120, and (d) 144 hr. In each case, the referent solution is compared with TIGAR simulation results for 12‐ and 24‐min time steps.
Montoya Duque, E., Lunkeit, F. & Blender, R., 2021: North Atlantic midwinter storm track suppression and the European weather response in ERA5 reanalysis. Theor Appl Climatol. https://doi.org/10.1007/s00704-021-03517-z.
Abstract
In this study, we analyse the influence of North Atlantic midwinter storm track suppressions on European synoptic temperature and precipitation anomalies to determine the large-scale conditions relevant for the so-called Christmas thaw. We diagnose this relation in daily ERA5 reanalysis data in the spatial resolution of 0.25∘ between 1979 and 2018. To access synoptic time scales, a 3–10-day band-pass filter is applied. An index for the suppression is defined by the upper tropospheric Eddy Kinetic Energy (EKE) anomalies in the North Atlantic. We define the strong jet stream years as the year exceeding the 75% of the winter seasonal values at 250 hPa. In winters with strong jet activity, the storm track suppression is found, in agreement with the barotropic governor mechanism. Composites of European surface temperature and precipitation for low index values reveal weakly warmer conditions during winter (DJF) in Central Europe and the British Isles and a distinct cooling in Northern Europe. In the 1-month interval during December 15 to January 15, the warming is more pronounced. The clearest signal is the precipitation increase with a magnitude of 1 mm/day in the Mediterranean region.
Application of Normal-Mode Function Decomposition in Weather and Climate Research. in: Modal VIew of Atmospheric Variability, Eds.: N. Žagar, and J. Tribbia. Mathematics of Planet Earth (8), Springer (2020), ISBN 978-3-030-60963-4, https://doi.org/10.1007/978-3-030-60963-4.
Abstract
The book introduces the theory and computation of the normal-mode functions, reviews the applications of the normal modes in data assimilation and initialization of numerical weather prediction models, and for predictability research, and offers an up-to-date overview of research of atmospheric variability and energy transfers in terms of the Rossby and inertia-gravity waves across scales.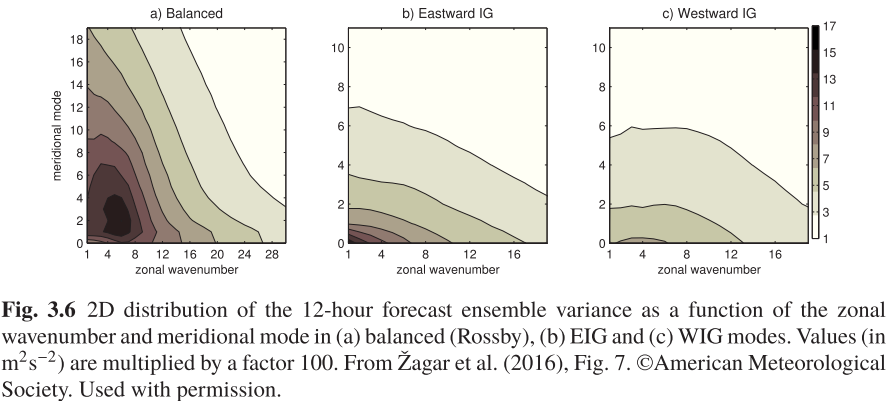 Žagar, N., Ž. Zaplotnik, and K. Karami, 2020: Atmospheric Subseasonal Variability and Circulation Regimes: Spectra, Trends, and Uncertainties. J. Climate, 33 (21), 9375–9390, https://doi.org/10.1175/JCLI-D-20-0225.1
Abstract
The globally integrated subseasonal variability associated with the two main atmospheric circulation regimes, the balanced (or Rossby) and unbalanced (or inertia–gravity) regimes, is evaluated for the four reanalysis datasets: ERA-Interim, JRA-55, MERRA, and ERA5. The results quantify amplitudes and trends in midlatitude traveling and quasi-stationary Rossby wave patterns as well as in the equatorial wave activity across scales. A statistically significant reduction of subseasonal variability is found in Rossby waves with zonal wavenumber k = 6 along with an increase in variability in wavenumbers k = 3–5 in the summer seasons of both hemispheres. The four reanalyses also agree regarding increased variability in the large-scale Kelvin waves, mixed Rossby–gravity waves, and westward-propagating inertio-gravity waves with the lowest meridional mode. The amplitude and sign of trends in inertia–gravity modes with smaller zonal scales and greater meridional modes differ between the ERA-Interim and JRA-55 datasets on the one hand and the ERA5 and MERRA data on the other. An increased variability in the ERA-Interim and JRA-55 accounts for positive trends in their total subseasonal variability.
Žagar, N. and Schäfer, T., 2020: Equality of opportunities for next generation researchers in Europe: a snapshot discussion motivated by the ERC statistics, Adv. Geosci., 53, 65–72, https://doi.org/10.5194/adgeo-53-65-2020
Lembo, V., Lucarini, V. & Ragone, F., 2020: Beyond Forcing Scenarios: Predicting Climate Change through Response Operators in a Coupled General Circulation Model. Sci Rep 10, 8668, https://doi.org/10.1038/s41598-020-65297-2
Abstract
Global Climate Models are key tools for predicting the future response of the climate system to a variety of natural and anthropogenic forcings. Here we show how to use statistical mechanics to construct operators able to flexibly predict climate change. We perform our study using a fully coupled model - MPI-ESM v.1.2 - and for the first time we prove the effectiveness of response theory in predicting future climate response to CO2 increase on a vast range of temporal scales, from inter-annual to centennial, and for very diverse climatic variables. We investigate within a unified perspective the transient climate response and the equilibrium climate sensitivity, and assess the role of fast and slow processes. The prediction of the ocean heat uptake highlights the very slow relaxation to a newly established steady state. The change in the Atlantic Meridional Overturning Circulation (AMOC) and of the Antarctic Circumpolar Current (ACC) is accurately predicted. The AMOC strength is initially reduced and then undergoes a slow and partial recovery. The ACC strength initially increases due to changes in the wind stress, then undergoes a slowdown, followed by a recovery leading to a overshoot with respect to the initial value. Finally, we are able to predict accurately the temperature change in the North Atlantic.
Zaplotnik Ž, Žagar N, Benedetti A, Semane N, 2020: Inferring atmospheric dynamics from aerosol observations in 4D-Var. Q.J.R. Meteorol. Soc.,146, 1403–1422, https://doi.org/10.1002/qj.3743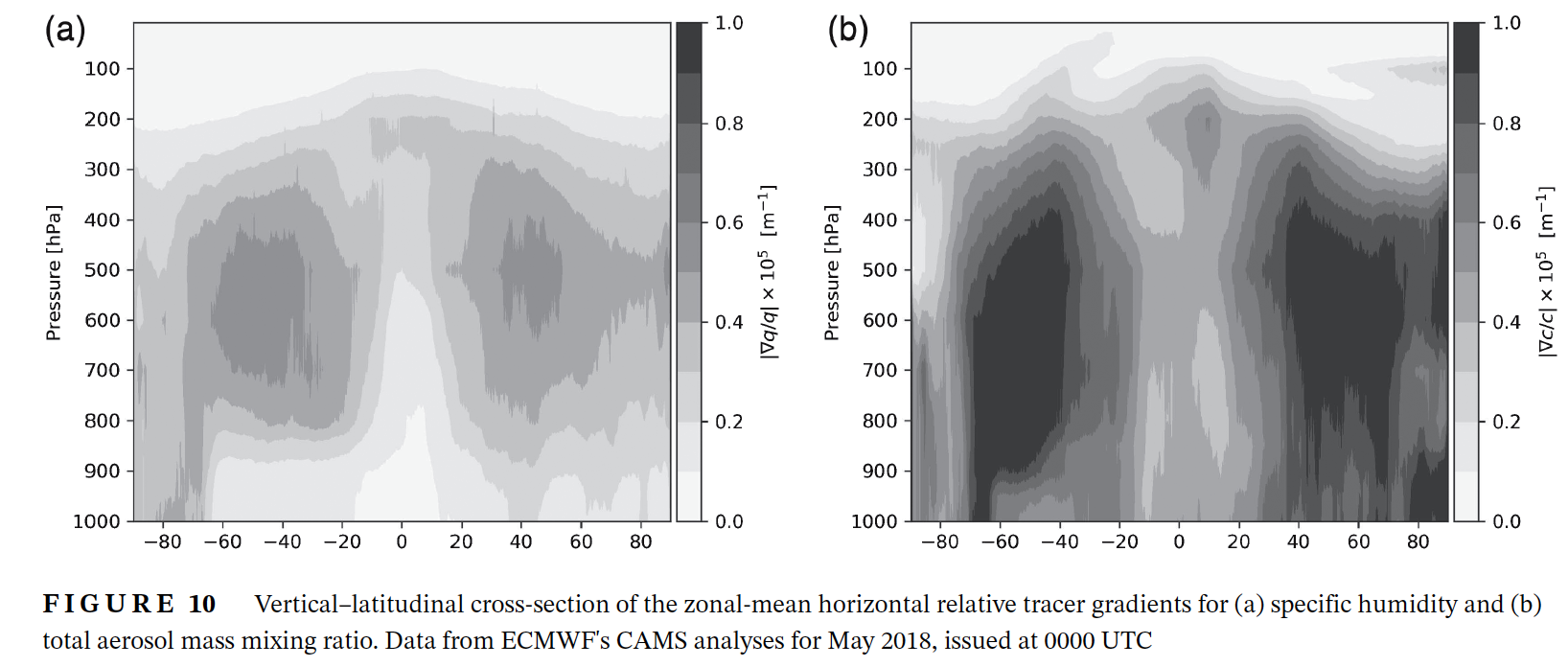 In current 4D-Var systems for Numerical Weather Prediction (for example, at ECMWF), aerosols are treated as passive scalars meaning that their impact on the analysis increments of other variables, for
example, wind, is turned off. This study assessed the potential of aerosol observations to improve wind analyses in 4D-Var systems.
The potential impact strongly depends on the tracer relative spatial gradients in the background field. We showed, using CAMS (Copernicus Atmosphere Monitoring Service) data, that the mean magnitude of the relative horizontal gradients of the total aerosol mass mixing ratio is more than twice as large as the specific humidity relative gradients throughout the troposphere and stratosphere. In the stratosphere, aerosol relative gradients are comparable to ozone relative gradients (figure).
The main result is that a combined assimilation of the aerosol and humidity data in 4D-Var improves the analysis with respect to only humidity data, while assimilating also temperature data additionally improves the wind analysis. The improvement is significantly smaller with respect to that obtained by assimilating direct wind observations, meaning that direct wind observations are
indispensable. However, in the global observing system missing direct wind observations and with an increasing number of observations of atmospheric composition, the aerosol effects in 4D-Var are worth further investigation for the purpose of operational weather forecasting.
Žagar, N. and I. Szunyogh, 2020: Comments on "What Is the Predictability Limit of Midlatitude Weather?". J. Atmos. Sci., 77(2). 781-785, https://doi.org/10.1175/JAS-D-19-0166.1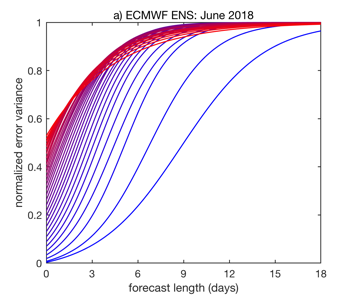 Growth of the forecast uncertainty toward saturation in the operational ECMWF ENS. The normalized ensemble variance at various zonal wavenumbers starting with k=5 (bottom blue curve) up to k=100 (top red curve), plotted every third wavenumber.
At the smaller scales shown in the figure, the errors are initially large compared to their saturation value and grow rapidly toward saturation. In contrast, at the larger scales (e.g., k=5 and k=8), the errors are initially small compared to their saturation values (around 1% of Emax) and evolve in time by a multistage error growth process discussed in previous studies.
In its criticism of the paper published in J. Atmos. Sci. in 2019, this paper shows that significant advancement of the practical predictability in the coming years can be expected at the subsynoptic scales. However, these improvements are unlikely to lead to further considerable improvements of the predictability at the synoptic scales. A potential source of significant gains in practical predictability is further improvement of the predictions at the large (planetary) scales, where processes are heavily influenced by ocean–atmosphere, land–atmosphere and tropical– extratropical interactions. In a current-day state-of- the-science model, these interactions are simulated with considerable errors.