Latest Publication
2020
Žagar, N. and I. Szunyogh, 2020: Comments on "What Is the Predictability Limit of Midlatitude Weather?". J. Atmos. Sci., 77(2). 781-785, https://doi.org/10.1175/JAS-D-19-0166.1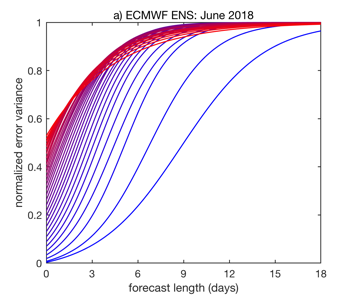 Growth of the forecast uncertainty toward saturation in the operational ECMWF ENS. The normalized ensemble variance at various zonal wavenumbers starting with k=5 (bottom blue curve) up to k=100 (top red curve), plotted every third wavenumber.
At the smaller scales shown in the figure, the errors are initially large compared to their saturation value and grow rapidly toward saturation. In contrast, at the larger scales (e.g., k=5 and k=8), the errors are initially small compared to their saturation values (around 1% of Emax) and evolve in time by a multistage error growth process discussed in previous studies.
In its criticism of the paper published in J. Atmos. Sci. in 2019, this paper shows that significant advancement of the practical predictability in the coming years can be expected at the subsynoptic scales. However, these improvements are unlikely to lead to further considerable improvements of the predictability at the synoptic scales. A potential source of significant gains in practical predictability is further improvement of the predictions at the large (planetary) scales, where processes are heavily influenced by ocean–atmosphere, land–atmosphere and tropical– extratropical interactions. In a current-day state-of- the-science model, these interactions are simulated with considerable errors.
---