Dr. Sebastian Schubert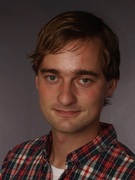 Postdoctoral Researcher
Anschrift
Universität Hamburg
Geowissenschaften
Meteorologisches Institut
Grindelberg 5
20146 Hamburg
Büro
KlimaCampus
Raum: Gr5 405
Kontakt
Main Research Interests
Chaotic Dynamics of linear perturbations in meteorological models by using covariant Lyapunov vectors (CLVs, Kuptsov 2012)
Application of a dynamical system approach to geophysical models of the general circulation
Current Work
I am working as part of the DFG project MERCI on the analysis of linear multiscale instabilities as reprsented by CLVs in the Portable University Model Of the Atmosphere (PUMA). Potentially, CLVs in GCMs and complex models would offer grest benefits for ensemble generation (Pazo et al 2010).
Past Work
I have investigated the implementation of algorithms for the computation of CLVs (Ginelli et al 2007) in a quasi-geostrophic two layer model (Phillips type). In the course of my PhD thesis -  as part of the IMPRS at the MPI f. Meteorology - I have studied the energetics and explainatory power of CLVs under the supervision of Valerio Lucarini (Schubert & Lucarini 2015). Furthermore, we found a signal of blocking events in the linear stability properties described by the CLVs (Schubert & Lucarini 2016).
Analysis of CLVs in Lorenz 96 and Lorenz 63 models in order to establish basic methods for obtaining CLVs.
My Publications & Manuscripts
Schubert, S., & Lucarini, V. (2015). Covariant Lyapunov vectors of a quasi-geostrophic baroclinic model: analysis of instabilities and feedbacks. Quarterly Journal of the Royal Meteorological Society, 141(693), 3040–3055. doi:10.1002/qj.2588

Schubert, S., & Lucarini, V. (2016). Dynamical Analysis of Blocking Events: Spatial and Temporal Fluctuations of Covariant Lyapunov Vectors. Quarterly Journal of the Royal Meteorological Society, n/a–n/a. doi:10.1002/qj.2808

Schubert, S. (2015). Statistical Mechanics of the Fluctuations of a Turbulent Quasi-Geostrophic Model of the Atmosphere : Instabilities and Feedbacks. University Of Hamburg. Retrieved from http://ediss.sub.uni-hamburg.de/volltexte/2016/7794/
References
Vannitsem, S., & Lucarini, V. (2016). Statistical and Dynamical Properties of Covariant Lyapunov Vectors in a Coupled Atmosphere-Ocean Model - Multiscale Effects , Geometric Degeneracy , and Error Dynamics. Mathematics for the Fluid Earth, (Special Issue). Retrieved from http://arxiv.org/abs/1510.00298

Kuptsov, P. V., & Parlitz, U. (2012). Theory and Computation of Covariant Lyapunov Vectors. Journal of Nonlinear Science, 22(5), 727–762. doi:10.1007/s00332-012-9126-5
Pazó, D., Rodríguez, M. a., & López, J. M. (2010). Spatio-temporal evolution of perturbations in ensembles initialized by bred, Lyapunov and singular vectors. Tellus, Series A: Dynamic Meteorology and Oceanography, 62(1), 10–23. doi:10.1111/j.1600-0870.2009.00419.x

Ginelli, F., Poggi, P., Turchi, A., Chaté, H., Livi, R., & Politi, A. (2007). Characterizing dynamics with covariant Lyapunov vectors. Physical Review Letters, 99(13), 130601. doi:10.1103/PhysRevLett.99.130601
---