PD Dr. Christian Franzke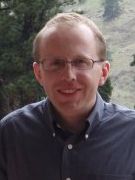 Foto: Christian Franzke
Wissenschaftlicher Angestellter & Privatdozent
Anschrift
Universität Hamburg
Fakultät für Mathematik, Informatik und Naturwissenschaften
Geowissenschaften
Meteorologisches Institut
Grindelberg 7
20144 Hamburg
Büro
Raum: Gr7 4010
Kontakt
Schwerpunkte
Weather and Climate Risk, Climate Variability, Extreme Events, Climate Trends, Atmospheric Dynamics, Large-Scale Dynamics
Please visit my personal webpage for more information.
My Research Interests:
My research is aimed at the understanding and prediction of the Earth system from daily to millennial time scales. In order to achieve this I combine theory with data analysis and numerical modelling. My research involves the analysis of observational data, the use of a hierarchy of numerical models of different complexity and novel statistical and stochastic methods. In my research I am working with numerical models which range from simple toy models, which capture some essential aspects of the climate system, simplified General Circulation Models to state-of-the-art climate models.
One of the most intriguing facets of the climate system is that it exhibits variability on all time scales; e.g. convective activity on an hourly time scale, synoptic weather systems on a daily time scale, large-scale teleconnection patterns with time scales from intra-seasonal to inter-annual time scales, the coupled atmosphere-ocean system with variability on decadal and centennial time scale and then there are the time scales associated with the ice ages.
Most of the current problems in understanding and predicting the climate system stem from the multi-scale nature of the Earth system in that all of the above processes interact with each other in a nonlinear way and that the neglect and/or misrepresentation of some of the processes lead to systematic biases of the resolved processes and uncertainties in climate predictions. A better understanding of the multi-scale nature of the climate system will be crucial in making more accurate and reliable predictions for the coming decades. My research is focused on understanding the multi-scale nature of the climate system and in improving numerical weather and Earth system prediction models, and the prediction of extreme events and tipping points.

Current projects include:
- Weather and climate extremes
- Clustering of extremes
- Large-scale atmospheric dynamics: Teleconnection patterns, Jet stream, Regimes
- Long-term persistence and climate trends
10 most significant publications (complete list is on my personal webpage)

A. Bunde, J. Ludescher, C. Franzke, and U. Büntgen, 2014: How significant is West Antarctic warming? Nature Geoscience, 7, 246-247.

C. Franzke, 2013: Predictions of Critical Transitions with Non-Stationary Reduced Order Models, Physica D, 262, 35-47. DOI: 10.1016/j.physd.2013.07.013

C. Franzke, 2013: A novel method to test for significant trends in extreme values in serially dependent time series. Geophys. Res. Lett., 40, 1391-1395. DOI: 10.1002/grl.50301

Franzke, C., T. Woollings and O. Martius, 2011: Persistent Circulation Regimes and Preferred Regime Transitions in the North Atlantic. J. Atmos. Sci., 68, 2809-2825. doi:.10.1175/JAS-D-11-046.1 

Thomas, E. R., P. Dennis, T. Bracegirdle and C. Franzke, 2009: Ice core evidence for significant 100-year regional warming on the Antarctic Peninsula. Geophys. Res. Lett., doi:10.1029/2009GL040104

Majda, A. J., C. Franzke and D. Crommelin, 2009: Normal forms for reduced stochastic climate models. Proc. Natl. Acad. Sci. USA, doi:10.1073/pnas.0900173106.

Franzke, C., 2009: Multi-Scale Analysis of Teleconnection Indices: Climate Noise and Nonlinear Trend Analysis. Nonlin. Proc. Geophys., 16, 65-76. doi:10.5194/npg-16-65-2009

Majda, A. J., C. Franzke, A. Fischer, and D. T. Crommelin, 2006: Distinct Atmospheric Regimes despite nearly Gaussian Statistics - A Paradigm Model. Proc. Natl. Acad. Sci. USA, 103, 8309-8314. doi: 10.1073/pnas.0602641103

Franzke, C., A. J. Majda and E. Vanden-Eijnden, 2005: Low-order stochastic mode reduction for a realistic barotropic model climate. J. Atmos. Sci., 62, 1722-1745.

Franzke, C., S. Lee, and S. B. Feldstein, 2004: Is the North Atlantic Oscillation a breaking wave? J. Atmos. Sci., 61, 145-160.
---